Please read the rules!!! Prices DO NOT include shipping! Also, prices for most items are not set in stone!



I've had this thing sitting in my closet for ages now!

The "Angel Box" was released in 2001 to celebrate the end of the Angel Sanctuary manga. I pre-ordered it way back then, so it's authentic. There are a few flaws, but I'll detail those with the pics!

$90 + shipping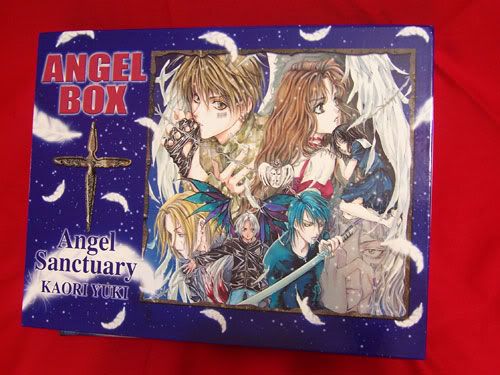 Box Cover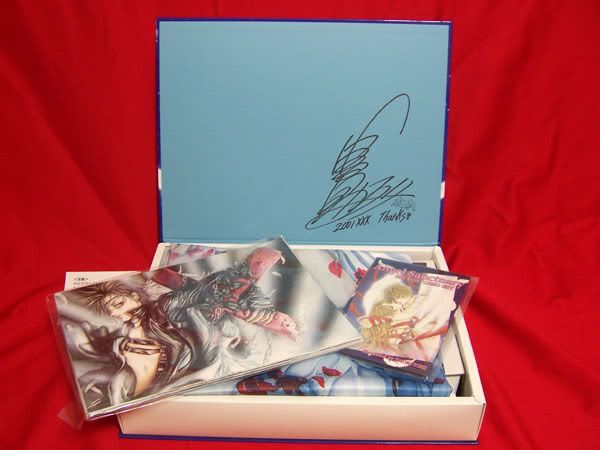 Inside of box (artbook prints & postcard set, also shown). I'd like to note that the signature is NOT real. A lot of people seem to think it is, but frankly, wouldn't it be strange if Sensei could do sooooooo many signatures and little cat drawings and they all look completely identical?? When the box came out, several people on a mailing list I was on took pics to compare. All totally identical. Anyway, carrying on...



(left to right)
1. paper "frame" for artbook prints, I think it's meant to hold your favorite image and then be framed, perhaps?
2. Artbook prints; prints of all the color art from both Angel Sanctuary artbooks
3. sticker sheet
4. postcard set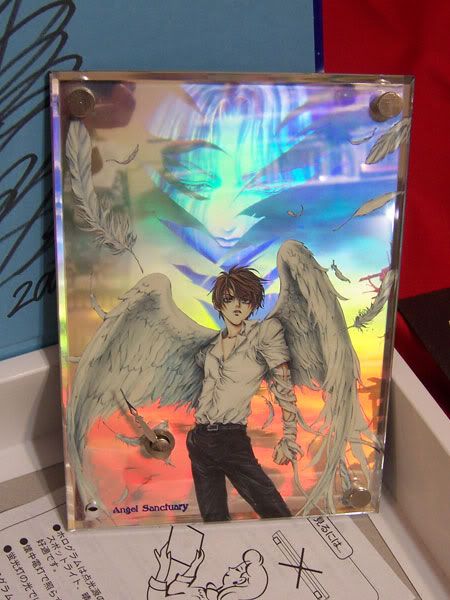 Crazy reflective clock! As far as I know this still works (I haven't tried it and the battery has been dead since 2002), however, I've lost the stand, which was basically just a little peg that stuck into one corner.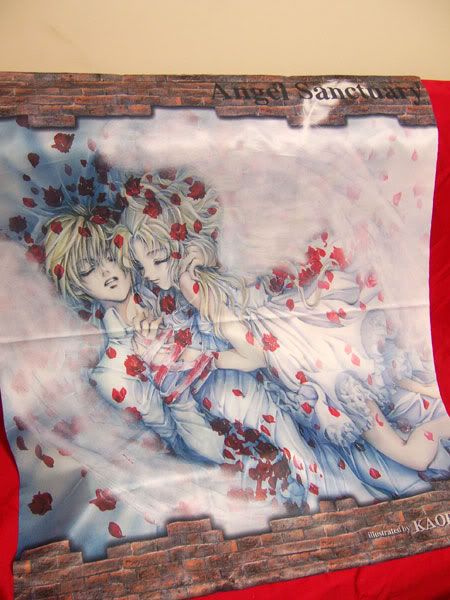 Tapestry (wall scroll). It's about 3ft wide, and a bit taller. I'd already taken apart the poles, thus the fact that it's just draped over my couch. Poles and ties for hanging are included, of course.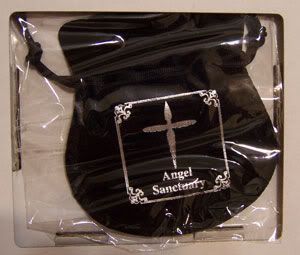 This is the main flaw in the set (the other being the missing peg for the clock); I'm missing the necklace! I have the pouch it came in, but the cross on the necklace broke several years back.





DVD
+ UFO Ultramaiden Valkyrie OVA, Seasons 3 & 4 ($40, still in plastic, never opened!)
+ Yu Yu Hakushou Complete Season 4 ($25, episodes 85-112, still in plastic, never opened!)
+ Ninja Scroll($10, subbed)
+ Shamanic Princess complete series eps 1-6($10)
+ Fushigi Yuugi OVA 2 DVD set, package slightly used but DVDs and booklet and perfect, additional pic ($25)
+ Hellsing Volume 1 DVD ($10)
+ Boogiepop Phantom Volume 1 ($10)
+ Boogiepop Phantom Volume 2 ($10)
+ Boogiepop Phantom Volume 3 ($10)
+ Boogiepop Phantom Volume 4 ($10)
+ Final Fantasy: Advent Children (region 2, no subs) ($15)




MANGA
+ Les Bijoux Volumes 1 & 2, English ($3 ea or $5 together!)
+ More Starlight to Your Heart Volume 1, English ($2)
+One Piece Volume 1 & 2, English (5$ each or 7$ as a set)
+DNAngel Volumes 5 & 6, English ($5 each or $7 as a set)
+ Demon Diary Volumes 1-6, English ($5 each or $24 as a set)
+ Loveless, English 4 & RAW 7, ($5 each or $9 as a set, Volume 5, 6 & 8 are sold)
+ Fruits Basket 7, 9, 10, 11 RAW ($5 each or $16 as a set)
+Princess Princess + ($5)



ARTBOOK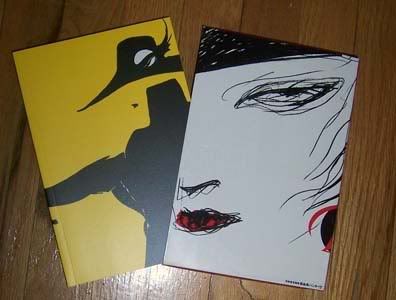 +AMANO: The Collected Art of Vampire Hunter D ($18)
Brand new; but it has a little wear on the corners of the slip cover. This is how I received it from Amazon. Book itself is in perfect shape. 392 pages, includes a short story by Hideyuki Kikuchi as well.



+Weiss Kreuz Anime Artbook ($15)
Near perfect condition.
Inside shot



+Fruits Basket Character Book ($10)



+Angel Sanctuary 'Angel Cage' ($15)



DOUJINSHI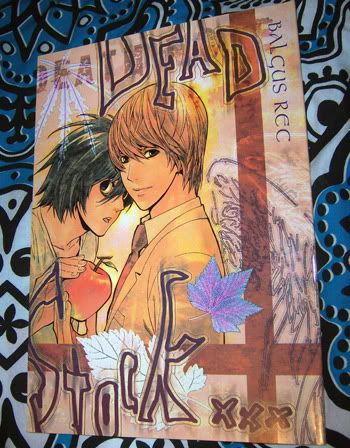 + Death Note doujinshi "Dead Stock" ($30 ON HOLD)
By Sabi of Balgus REC. Printed in 2004, out of print for ages now. Shounen-ai, L x Light, 36 pages. Sample Page (work safe).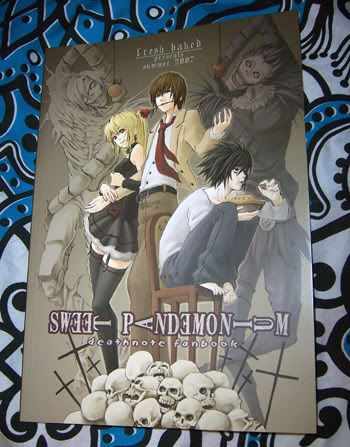 + Death Note doujinshi "Sweet Pandemonium" ($10)
By American doujin circle Fresh Baked. 2007 release, 36 pages.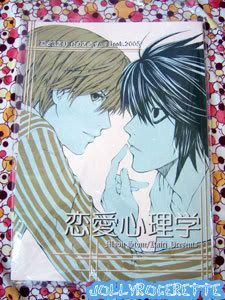 + Death Note doujinshi "Renai Shirigaku" ($15)
Sample Page. PG-13

+Death Note Doujinshi Lot ($5 each or all of them for $18):
1
2
3
4




+Rare Pink Janction Gundam Wing doujinshi 4 x 2 (duo x quatre) ($10)




MERCHANDISE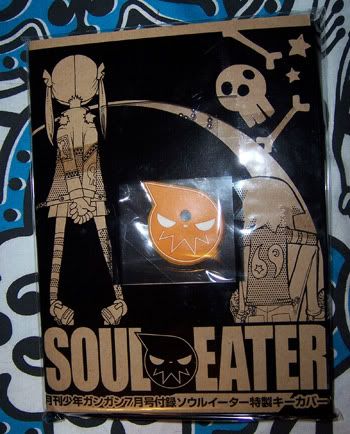 + Soul Eater Logo Keychain ($6, never opened, I have 4 available)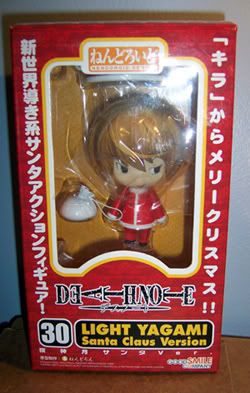 +Death Note Light Santa Claus Nendoroid ($20)



+One Piece Sanji toy from the Arabasta arc, new in box ($5)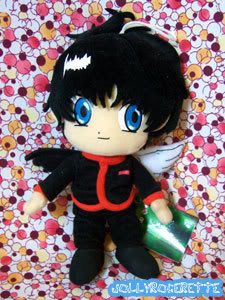 + X/1999 Kamui Plushie ($10)

+ Cookie magazine w/ Nana cover ($3)
+ Saiyuki Sanzo Bromide card in case ($2)
+ Utena T-shirt ($10, size XL)
+ Digi Charat Pencil Board ($2 or FREE + shipping if you buy something else!)
+ Earl Cain Mounted Postcard ($5)
+ FAKE VHS ($2 or FREE + shipping if you buy something else!)
+ Naruto Mist Village Headband ($5)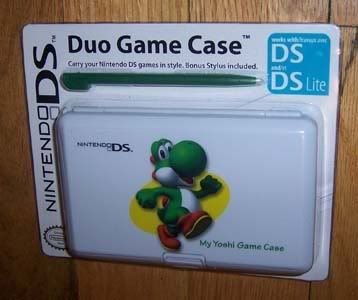 + Nintendo DS Yoshi Game Case & Extra Stylus ($8)
Brand new, still in package. I was given another case, so I don't need this one. Holds 6 games + stylus.